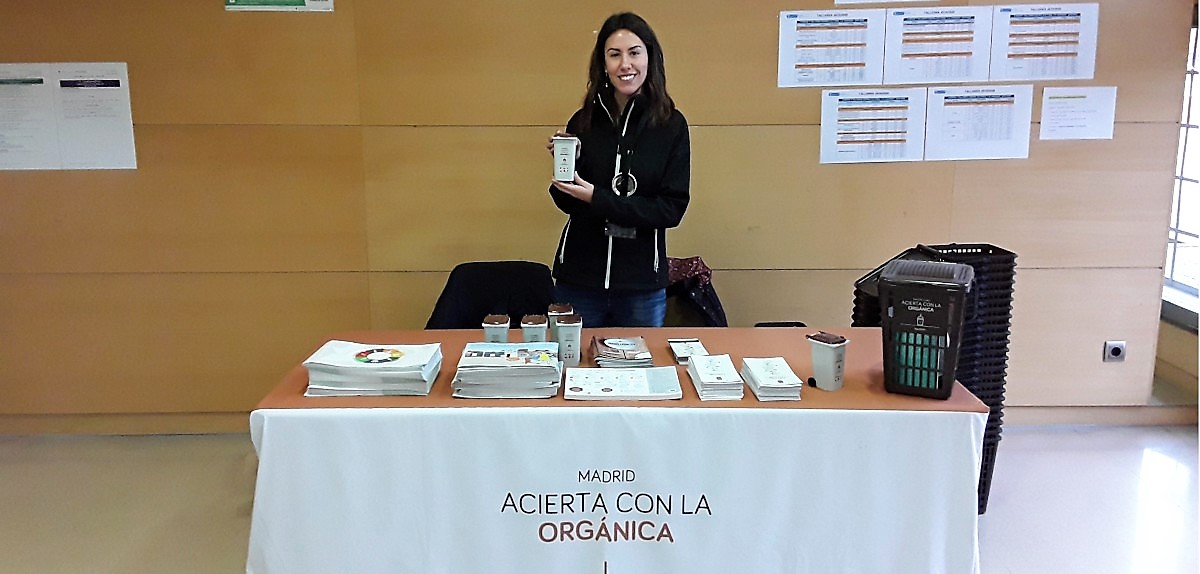 A new year … and new kits! We are proud to start distributing among the public the new 10-litre bin for waste separation at home, together with information materials on organic waste separation.
And this year we have improved the model. To encourage more people to adopt this separation system we have improved the design of the kits. They're now lighter, as less plastic is used to manufacture them. We have improved the colour and they are now narrower, for easier use in smaller kitchens.
So, if you are thinking about separating organic waste, this is your big opportunity. What do you need? First, visit one of the information booths we set up every week in different districts of Madrid.
You'll be attended to by our team who will give you all the information you need to correctly separate organic waste. And you can take the opportunity to clear up any doubts you may have about waste and how it is handled. At the end, they'll give you a 10-litre kit plus any other information you need.
You can request children's and adults' guides on how to correctly separate waste, information leaflets in different languages, an informative magazine, a  graphic summary together with a fridge magnet and some fun pencil holders. As you can see, we have a wide variety of materials to adapt to every person and their needs.
Where are the booths located and when are they open? As we mentioned, the booths will change district every week. This means they will visit the 8 districts this information campaign is focused on: Barajas, Retiro, Usera, Salamanca, Carabanchel, Moratalaz, Chamartín and Fuencarral- El Pardo. You can find the exact location together with the opening hours in the following link.
You don't need to present any proof of identity to collect your kit.
Remember that the information and awareness campaign will end in summer. Until then, we will be holding different events and information activities. The booths will rotate around different dates and locations within these 8 districts over the coming months. In this way we can reach a greater number of people and cover all their different timetables.
Here at "Getting organic waste right" we'd like to invite you to take part in our activities, so check the link above regularly to stay up to date. You can also follow our profile on Twitter, @AciertaOrganica, where we give information and answer questions on a daily basis.