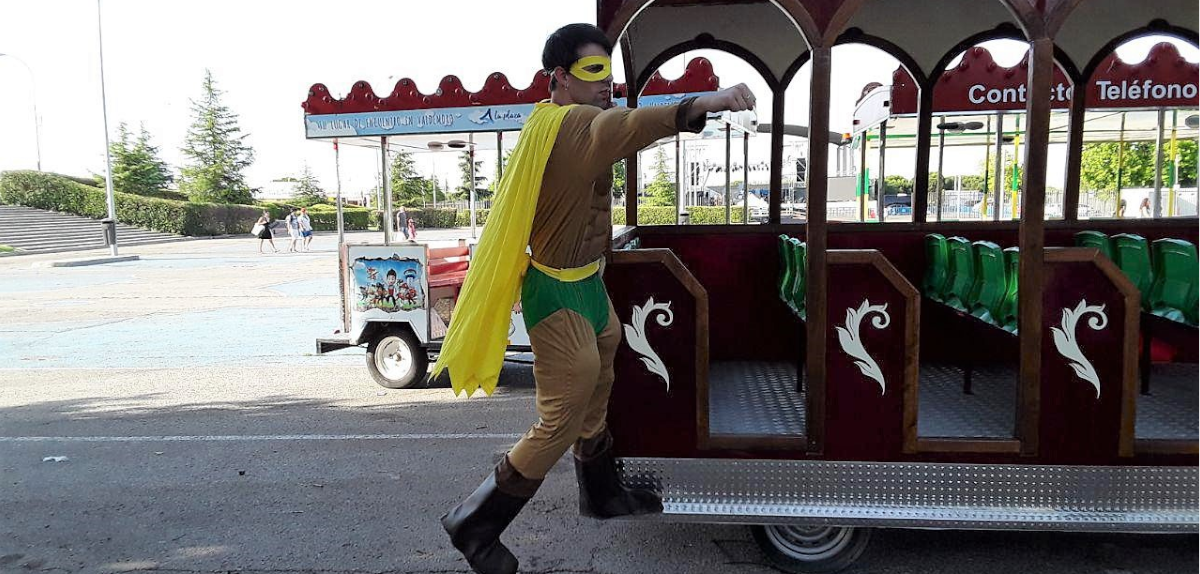 When walking around any of the parks in Madrid or taking part in the popular celebrations that liven up our districts on summer weekends, perhaps you've caught yourself wondering… Is it a bird? Is it a plane?
No! It's SuperOrganic!
We're sorry. We apologize, it's our fault…
Information booths, educational activities, informational sessions at district meetings and associations… As you can see, we spare no resources to keep you informed and encourage you to separate organic waste into the brown-lidded bin. But as we've seen that acquiring this habit is perhaps more complicated than we thought, we had no choice but to provide the city with a new superhero!
You'll be wondering… So who is he? When did he fall in love with the brown bin? What does he do in his spare time? The truth is that he doesn't actually have any spare time. He's been highly sought after lately, making stellar appearances at different popular celebrations organized in the city districts at this time of year.
Where did he appear? We've received calls from people who have seen him in Madrid Río, also at the Summer Solstice Festival at Quinta Torre Arias in San Blas-Canillejas, at the Dehesa de la Villa in Moncloa-Aravaca, at the Health Fair in Villa de Vallecas and even one Sunday at the Mercado Municipal de Productores Planetario!
On all these occasions, SuperOrganic has caught some residents red-handed with a rubbish bag with all the waste mixed together, ready to place it in any bin, without caring whether they were containers, paper and cardboard, glass, organic waste or non-recyclable waste!
But don't worry. Thanks to our new superhero and the general public, both adults and children, on every occasion the waste ended up in the right bins.
In these coming weeks we may see him appear in Valdebebas and Vicálvaro, among other areas. In any case, we've inserted him with a chip to track his movements. You can see them here.
So now. Do you still think we're short on superheroes?
.