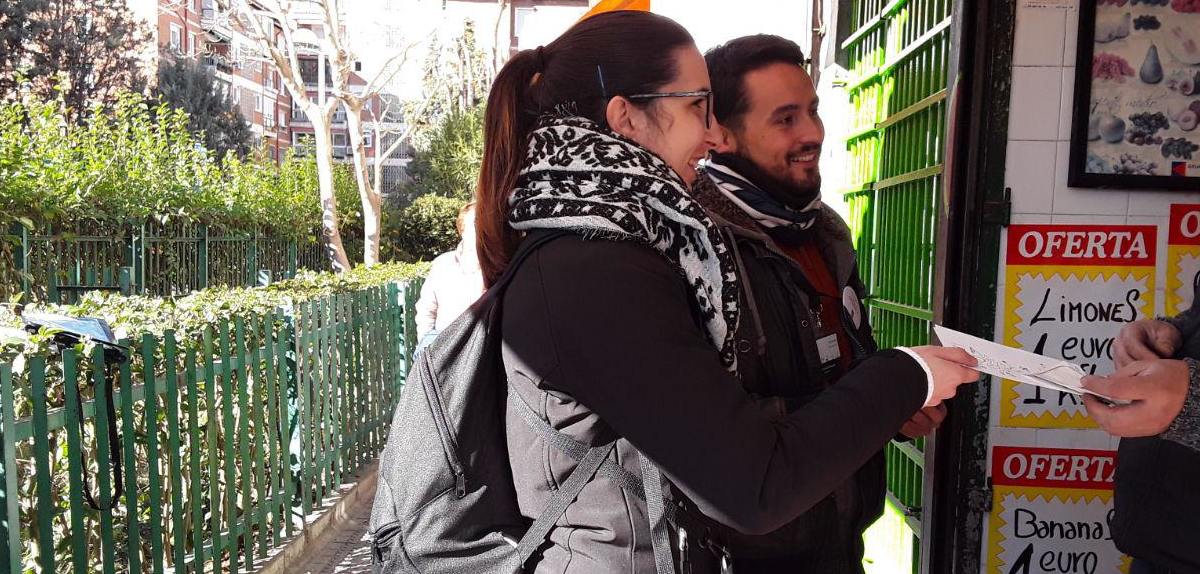 Establishments, bars and restaurants, together with other stores such as grocers and small businesses that produce organic waste during their activity, also play an important role in introducing this new collection system in Madrid.
Since the information campaign started last December, we have visited over 5,800 businesses in the twelve districts where organic waste is collected. This campaign has not yet ended and our team of campaign educators continues to visit businesses, restaurants and small local shops that generate organic waste.
During these visits, the owners can clarify any doubts they may have about this separation system, for which our educators provide a specific information leaflet for them, a sticker with general information on waste separation to be placed in the bin area to help to correctly separate the waste in their business and a sticker to be placed in the window, identifying them as a business that separates organic waste. There are now over 2,800 businesses which have placed them on their doors or shop windows!
In addition to these materials, the "Getting Organic Waste Right" campaign also provides every business that needs to dispose of organic waste in the brown-lidded bin a 60-litre drum on wheels for easier disposal. If you need one, you can request it now by emailing us at organica@madrid.es. We have already handed out over 200!
Although to the initial surprise of some, business owners now understand that, unlike homes, they cannot dispose of raw meat and fish leftovers in the brown bin: Only cooked leftovers!
A curious fact: of the businesses and stores that produce organic waste, those selling poultry, meat and fish are excluded. This is because animal by-products are produced in these establishments which are not suitable for human consumption and they must therefore adhere to a special management system called SANDACH. This reduces the risks for human and animal health and the environment and, above all, it ensures the safety of the human and animal food chain.
We encourage these shop-owners and those workers in businesses that do generate organic waste to adopt this new system of waste separation and to find out more via the campaign's usual communication channels: Twitter @AciertaOrganica and the website aciertaconlaorganica.es.