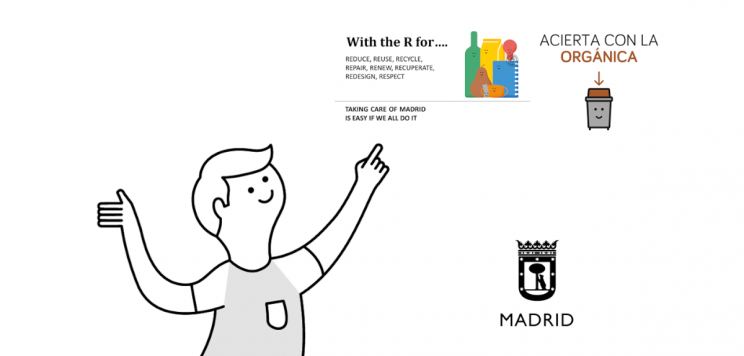 As you have already seen during these weeks of campaigning, we are the at the heart of organic waste separation, but taking it one step further. With your help, we want to set out a new plan for the city. We not only wish to continue working on the selective separation of organic waste, but also on other ideas that enable us to improve the classification of other types of waste and the maintenance of the city's cleaning so that together we can all continue to improve our quality of life.
For this reason, along with our traditional messages on waste separation, we will be adding and dealing with other new topics, such as the cleaning services of the city, taking care of water quality, the importance of sustainable and local food, etc., for which we need your involvement and collaboration more than ever.
As part of this new course of action and unlike traditional campaign activities, we want to inform you that, for the first time, we have recently joined in the celebrations for Global Recycling Day (March 18) and World Water Day (March 22). And we have done so by creating and sharing a series of short motivational videos, in story format, to encourage citizens to take up new, more sustainable and environmentally friendly habits, such as separating used cooking oil or clothes for recycling, as well as sharing a series of useful resources. Here are some examples:
The website ahorraaguamadrid.es, offering specific tips for saving water and other useful information.
The latest update of the "Madrid Móvil" app, which shows you the location of sources of drinking water, to encourage consumption of tap water instead of bottled water and contribute to improving the environment by avoiding unnecessary packaging.
The Water Management Services Charter, where you can learn about the services the Department for Water Management and Green Areas is committed to offering the public to increase awareness.
However, this is just a minor starting point for all that is yet to come in this new campaign. Over the next few months we will keep you informed about all the news and collaboration projects we are planning.
If you want to stay informed and up to date with all of them, follow our campaign profiles on social networks (Twitter and Instagram), the campaign websites (aciertaconlaorganica.es and conerrede.es) and our new newsletter.
Learn more and play a bigger role in caring for your city!