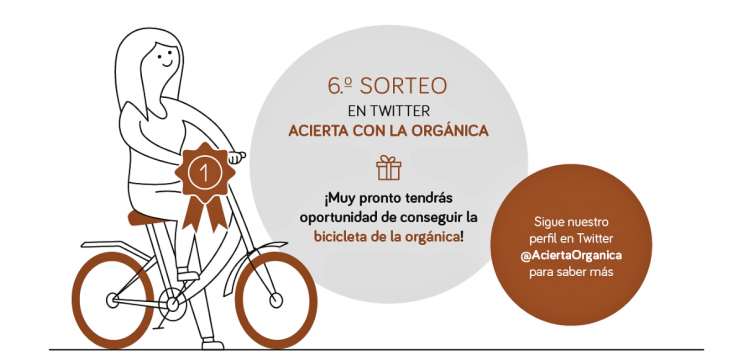 We're happy to announce a new edition of Twitter raffle associated with the 4th campaign "Acierta con la orgánica". This time the prize is even juicier, as we are raffling an electric bicycle among all participants.
The end of this campaign is quite near and we would like to thank you for your good reception to the informative actions carried out at stands, educational centres, information sessions… and, of course, also for your valuable collaboration in separating organic waste, demonstrated by the improvement in the collection figures for this fraction in recent months.
If you want to be in with a chance of winning an electric bicycle, read on! You can enter our prize draw from Monday 14 to Sunday 20 June by completing these simple steps:
Follow our Twitter account @AciertaOrganica
Retweet the publication associated to the draw (it will be published next Monday 14th at 09am)
And that's it! That's how easy it is to become the winner of the 6th draw of the campaign.
Help us spread the word about the draw by sharing this post or the tweets we will be publishing related to it.
Come on and take part of the draw! You could win an electric bicycle to move around the city in a sustainable way.
Check legal terms and conditions of the 6th "Acierta con la orgánica" prize draw (in spanish):