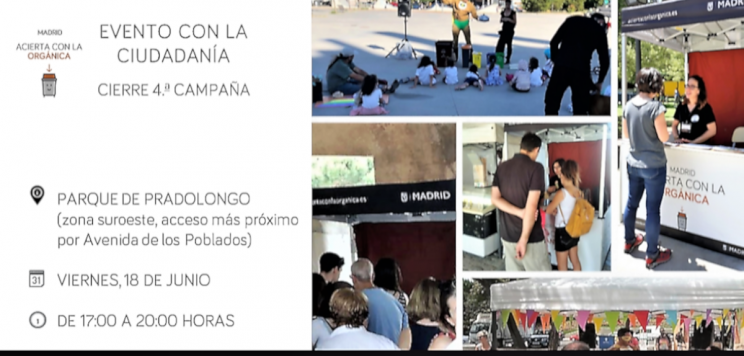 On Friday 18th, come to Parque de Pradolongo to have fun with the family activities we have prepared: the main course will be a gymkhana with rewards, but you can also enjoy performances by Superorgánica, get information at the information stands or visit our exhibition.
As the 4th information and awareness campaign "Acierta con la orgánica" will end very soon, we've organised an event, open to the public and free, to thank the public for their great involvement with the separation of the organic waste.
We have an appointment on 18 June, between 17:00 and 20:00, in Parque de Pradolongo, located in Usera district. The activities will take place in the southwest area of the park, near the access to the park from Avenida de los Poblados.
Family Gymkhana, performances by Superorganica and much more
"En busca del contenedor marrón" gymkhana will undoubtedly be the star of the event. This is an activity to test your knowledge of recycling and waste separation; all members of the family can participate!
It includes a route with several stops or "stations" where participants, by solving the challenges and games, will get new clues that will lead them to the next stops. After completing it, families will receive a special reward: merchandising created for the event, a 10-litre bucket to facilitate the separation of organic waste at home and a diploma of participation – for the little ones at home.
This activity can be booked in advance by sending an e-mail to organica@madrid.es, although there will also be participation slots available on the day of the event for those who come to Pradolongo to enjoy this event.
In addition, Superorgánica will be present at the event, livening up the afternoon with several performances, lasting approximately 30 minutes. And, of course, we will have information stands to attend to the public and answer any questions they may have about organics.
As a complementary action, the travelling exhibition of our campaign will be set up in the area of the event.
How to get to Parque de Pradolongo
The park is in the Usera district and the closest access to the area reserved for the activity is the access gate between Avenida de los Poblados and Avenida de Rafaela Ybarra.
If you choose to get there by public transport, the nearest bus stop is Avenida de los Poblados – Pradolongo (line 121), by metro you should take line 3 (Hospital 12 de Octubre station) and by suburban train line C-5 (12 de Octubre).
See you on Friday in Pradolongo.