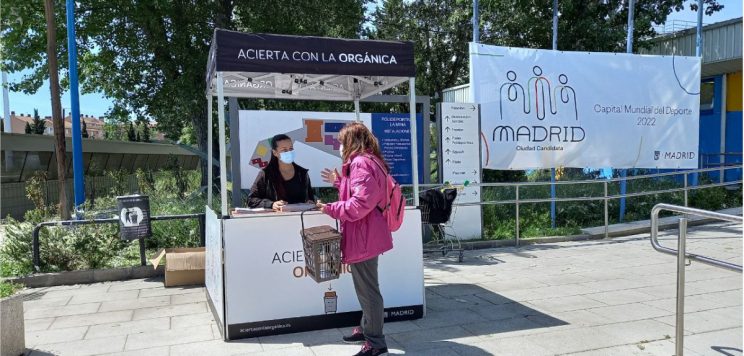 We're now combining the information stands located in Municipal Markets with new stands in the Municipal Sports Centres, so that for several weeks we will have three operational stands roaming around the city. Because we want to continue transmitting – and more citizens we reach, better – the importance of separating organic waste properly in the brown bin.
Last December, we began to provide on-site assistance from our stands, which have been touring the markets of many districts in Madrid: Centro, Latina, Villa de Vallecas, Usera, Tetuán, Puente de Vallecas, Villaverde, Carabanchel, Chamberí, Moratalaz, Arganzuela, Salamanca, Barajas and Retiro, until now. Through this informative action we have attended to a total of 6,412 visitors and have handed out more than 6,000 organic kits.
In addition to this presence in the markets, we are installing new information stands in the Municipal Sports Centres, which will have continuous opening hours and, in general, will be open from Monday to Friday from 09:30 to 16:25h.
Consult the list of Municipal Sports Centres that will have our information stand and the planned dates of installation:
MUNICIPAL SPORTS CENTRE
DISTRICT
DATES
CDM La Mina

C/ Monseñor Óscar Romero, 41

Carabanchel
10th to 14th May
CDM Barajas

Avda. Logroño, 70

Barajas
17th to 21st May
CDM Daoíz y Velarde 1

Avda. Ciudad de Barcelona, 162

Retiro
24th to 28th May
CDM Fuente del Berro

C/ Elvira, 36

Salamanca
31st May to 4th June
CDM Luis Aragonés

C/ El Provencio, 20

Chamartín
7th to 11st June
*This information is provisional. The dates, times and locations of the stands may be change.
We recommend you check the map on our website for updated information on the actions we're carrying out in the "Acierta con la orgánica" campaign. And, of course, we also invite you to follow our Twitter account @AciertaOrganica, where we publish daily news about the campaign.