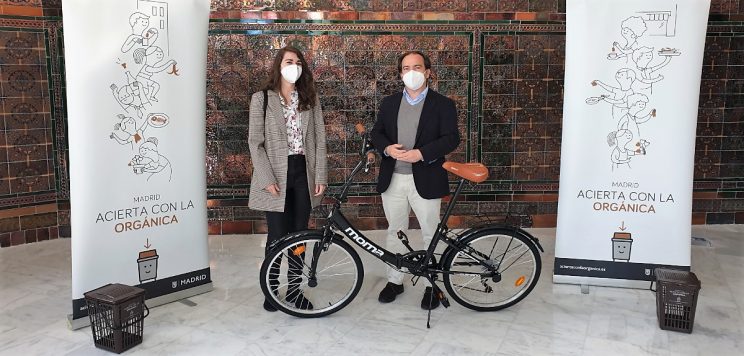 Beatriz González, a young resident in Delicias, was the lucky winner of the 5th Twitter draw of our campaign, which was held on 19 April and in which more than 200 users participated. The Councillor for the Environment and Mobility, Borja Carabante, received her yesterday afternoon at the Madrid City Council to gave her a prize: a folding bicycle from Moma Bikes, which will enable her to get around the city in a more environmentally friendly way.
The winner is a loyal follower of the Twitter account @AciertaOrganica and she assures us that she has participated in the five draws organised, so we are very happy that the prize has gone to her (fifth time lucky!).
When she was asked about recycling habits, Beatriz said that her parents have always taught her to recycle and, now that she lives on her own, she continues to separate all fractions: organic, glass, packaging and paper. In fact, she remembers the informative visit that the educational team of "Acierta con la orgánica" made at her home in 2017, when the district of Arganzuela was chosen as a pioneering area to install the new bin for the organic fraction.
The young woman encourages us to separate waste "so that we have a better future; but not in 50 years' time, but next year or five years from now… Having a cleaner Madrid, without pollution, is everyone's responsibility".
In addition to her great collaboration in recycling, Beatriz was looking for a more sustainable method of transport to get to work – a bicycle or an electric scooter – so winning our raffle came to her at the right time. How happy we are for her!
Before we say goodbye, she tells us that she will be taking her bike for a spin through Madrid Río today. We hope you enjoy it very much, Beatriz!