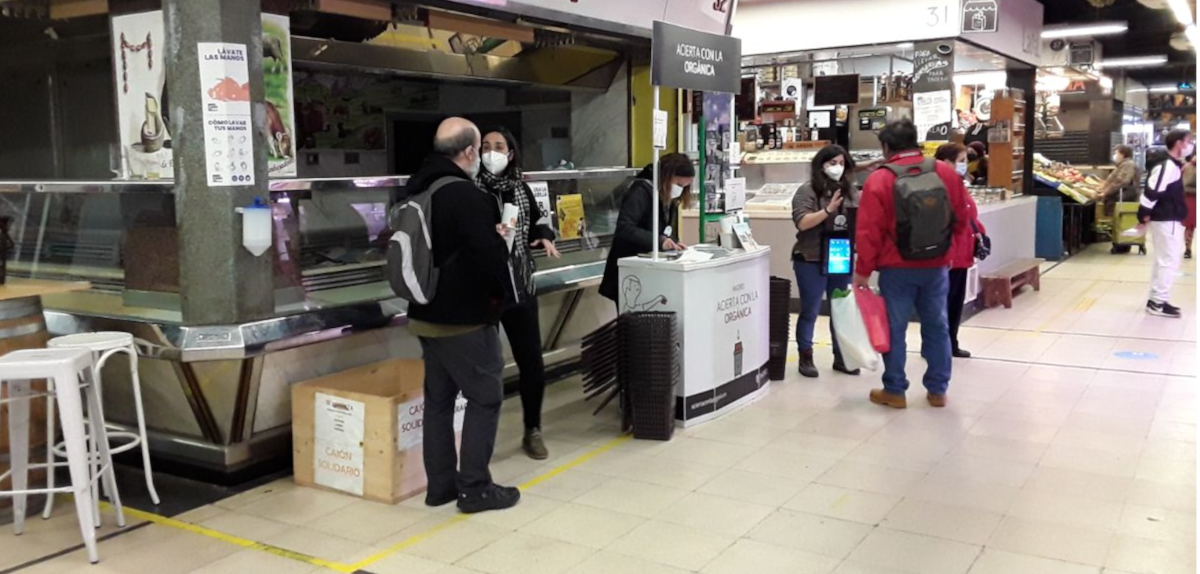 Last December we started to install booths in the municipal markets. Because, in addition to providing us with food and household goods, markets form the mainstay of their districts, acting as a point of reference for their local residents. This is why the "Getting organic waste right" campaign continues to set up information points inside these markets.
Mercado de San Fernando was the first to welcome us for another campaign, as a platform to familiarise local residents with separating organic waste. Then came Mercado de Barceló, where we also enjoyed a warm welcome. During these first weeks, almost 1,000 residents have visited our booths and our educators have given out 844 organic waste kits.
Visitors were able to get answers to their questions about separating organic waste thanks to the information given by our team of educators. They also received our famous kit which includes a bin for easier separation at home, an information leaflet, a fridge magnet and the Orgánic@s magazine; they were also presented with a mini-organic waste bin for pencils, an infographic and municipal guides on separating waste.
To make sure that this information on organic waste reaches every district, these booths generally change location every two weeks. The team is working hard to be present in more districts:  Latina, Villa and Puente de Vallecas, Usera, Villaverde, Tetuán, Carabanchel, Moratalaz, Chamberí, Arganzuela and Barajas.
Below you can see the upcoming dates and locations of the information booths in the markets:
MERCADO
FECHAS
DISTRITO
TIRSO DE MOLINA

C/ Doña Urraca, 15

DEL 8 AL 21 DE FEBRERO
LATINA
VILLA DE VALLECAS

C/ De la Sierra Vieja, 61

DEL 8 AL 21 DE FEBRERO
VILLA DE VALLECAS
SAN ENRIQUE

C/ San Enrique, 16

DEL 22 DE FEBRERO AL 7 DE MARZO
TETUÁN
JESÚS DEL GRAN PODER

C/ Jesús del Gran Poder,  42

DEL 22 DE FEBRERO AL 7 DE MARZO
USERA
PUENTE DE VALLECAS

C/ Martínez de la Riva, 4

DEL 8 AL 21 DE MARZO
PUENTE DE VALLECAS
SAN ISIDRO

C/ San Patricio, 1

DEL 8 AL 21 DE MARZO
CARABANCHEL
VILLAVERDE ALTO

P.o de Alberto Palacios, 18

DEL 22 DE MARZO AL 4 DE ABRIL
VILLAVERDE
GUZMÁN EL BUENO

C/ Andrés Mellado, 43

DEL 22 DE MARZO AL 4 DE ABRIL
CHAMBERÍ
MORATALAZ

C/ Cañada, 17

DEL 5 AL 18 DE ABRIL
MORATALAZ
GUILLERMO DE OSMA

C/ Miguel Arredondo, 4

DEL 5 AL 18 DE ABRIL
ARGANZUELA
ALAMEDA DE OSUNA

C/ Canoa, 24

DEL 19 DE ABRIL AL 2 DE MAYO
BARAJAS
*This information is provisional. The dates, times and locations of the information booths may be modified for reasons beyond the control of the campaign.
We recommend you check the map on the website for exact information on these booths. You can also follow our Twitter account, @AciertaOrganica, to get all the up-to-date details about these information booths.
We keep on working to establish our presence in the markets in the other districts that do not appear on the list.
Come and visit us at the market. We look forward to seeing you!