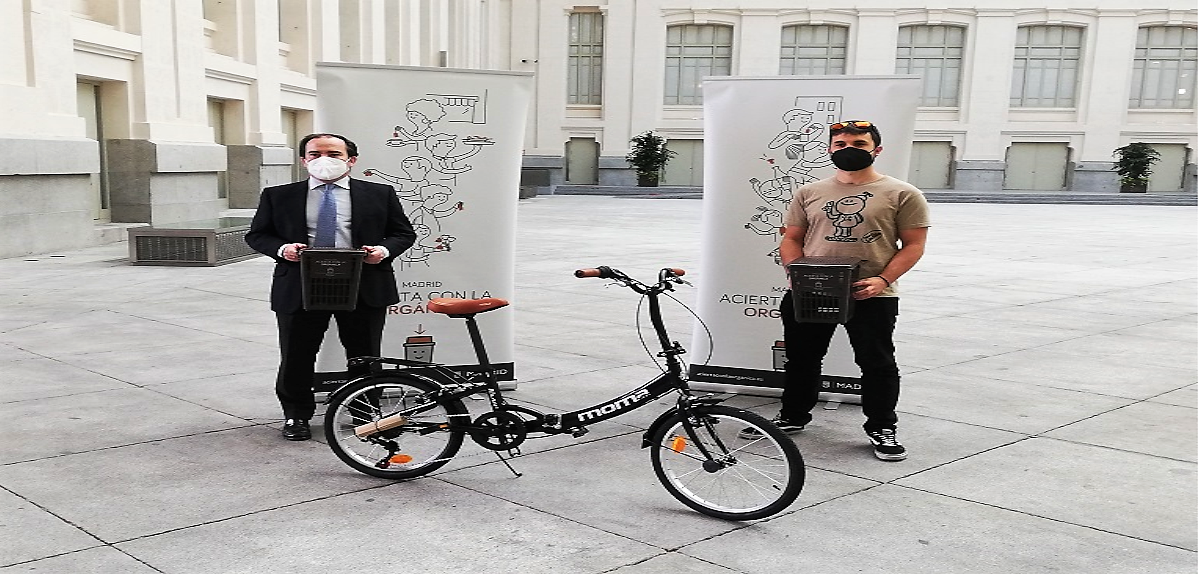 The 4th Twitter draw organised by the "Getting organic waste right" campaign drew the participation of over 500 users. Participants had to be followers of our Twitter profile @AciertaOrganica and share the specific tweet about the competition.
Last Monday, the representative for the Environment and Mobility Dept. of Madrid City Council, Borja Carabante, at an event held at the Town Hall, presented the award for the draw to Javier Sánchez, a young man from Valladolid now resident in La Latina district, who took part after being told by a friend who follows our account.
Yet again, the "Getting organic waste right" campaign was able to reward the loyalty of our social network followers and, now that brown bins have been introduced across all 21 districts, we thought the best idea would be to hold a draw for a bicycle to continue promoting a sustainable lifestyle.
The winner can now enjoy his prize, a Moma Bikes foldable bicycle. And now he can also continue getting his waste disposal right thanks to the 10-litre brown bin we gave him to separate out his organic waste. Indeed, Javier told us that this bin would be really useful because he has a bin with compartments at home to separate waste, but it had no organic waste compartment.
Lastly, we would like to thank the 506 followers who retweeted the publication of the draw for their participation. Don't stop following us and stay up to date on the campaign!
And remember: making Madrid a more sustainable city is easy if we all participate.