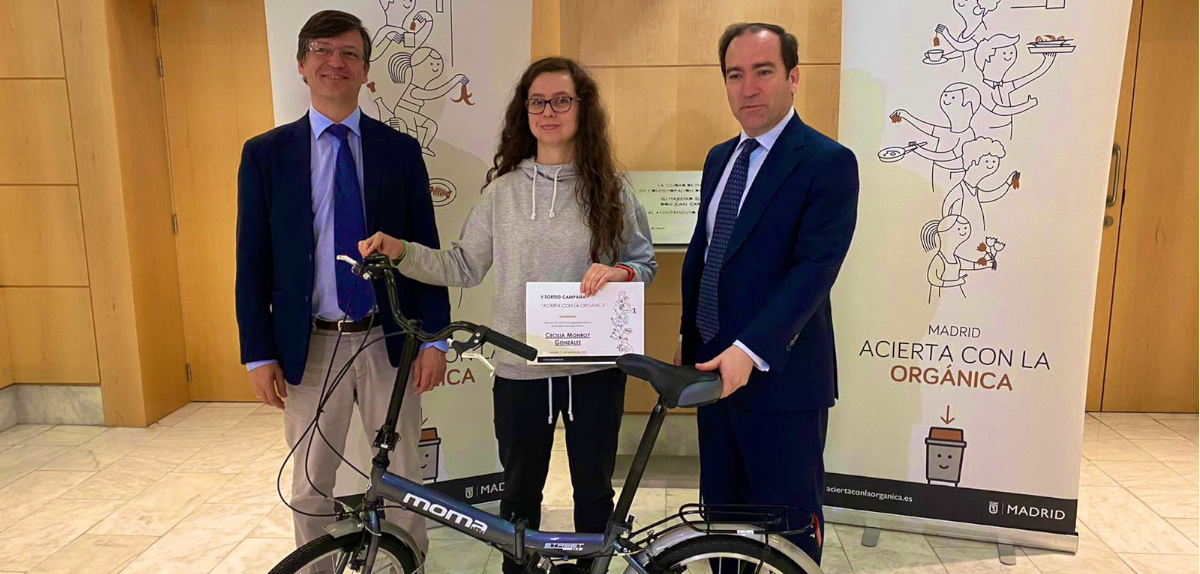 Many thanks to the 340 people who took part in the 2nd Twitter Raffle! This year's raffle has been a great success with about 100 more people taking part than last year.
And we are happy to announce that the lucky winner of the foldable bike is … Cecilia Monroy González (@Srta.Monroy), a resident of Carabanchel, a district where selective collection was introduced on November 1st!
Last summer we raffled two prizes in different categories. The lucky winners were Álvaro Rol Rúa (@ARocanrol), winner of the first prize – a foldable bike – and Iván Gaitán Muñoz (@Ivanovef), winner of the second, a grow table.
The prizes were given out on February 11th in the presence of the Councillor for the Environment and Mobility of Madrid City Council, Borja Carabante. During the event, Cecilia mentioned to the Councillor that she only learned of the competition because she follows the Twitter feed of the Municipal Board of her district and had decided to take part on the very last day before the deadline!
In addition to the foldable bike, we also gave Cecilia different informative materials about waste separation and an organic waste Kit. With all these resources, there is no excuse when it comes to separating organic waste!
Now we'd just like to wish Cecilia many a healthy ride along the bicycle lanes of the city and to … re-cycle!