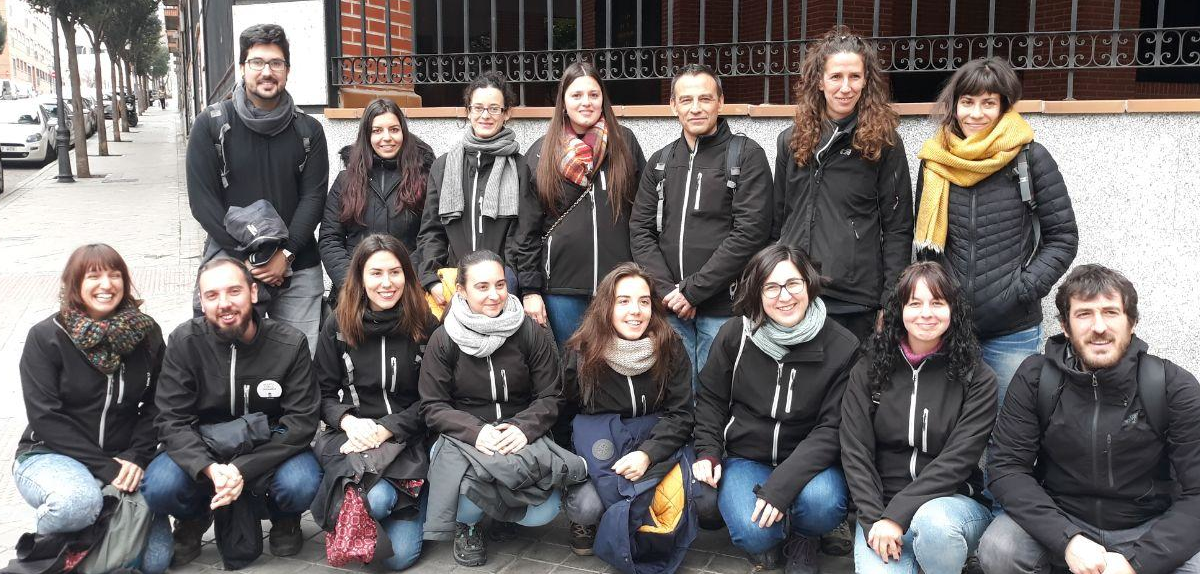 The awareness campaign on how to correctly separate organic waste in the home and in businesses of Madrid carries out many different activities to reach the greatest possible number of residents and groups, such as media activities, publications on social networks and workshops held at schools and secondary education centres.
These workshops are run by the campaign's team of environmental educators; but their work extends well beyond schools to inform and educate the general public, directly and in person. This takes the form of the following activities:
Attending to the public at our information points.
Visits to shops and other establishments that produce organic waste (bars, restaurants, coffee shops, fruit shops, etc.).
Information sessions for associations and different organisations and other allies of the campaign.
Visits to building janitors, concierges and doorways in the districts where selective bio-residue collection was introduced during this phase: Fuencarral-El Pardo, Chamartín, Moratalaz, Salamanca, Retiro, Usera, Carabanchel and Barajas.
Street surveys to find out how the new waste management system is being deployed.
Assisting the public during their visits to Valdemingómez Technology Park as part of the campaign.
All the members of this team have the experience, training and motivation necessary for this task.  Using their extensive experience in environmental awareness, every day the team seeks how best to reach out to the public to help them see the importance of separating the organic portion of our waste, together with how acquiring this new habit can benefit our city.
The work they carry out makes use of different informational material: leaflets in different languages (Spanish, Arabic, Chinese, French and English),  simple infographics with summaries on sorting and managing waste in Madrid, more extensive guides to separation for both adults and children and information posters for shops and entrances to residential buildings.
The day-to-day work of this team of environmental educators focuses on answering the public's doubts and underlining the importance of separating waste at source, by means of a story in which each of us can play the leading character. The story starts in our home when we begin to separate out the organic waste and place it in the brown bin; from there we then find out what happens to it and how it is handled. They also emphasise the fact that a small individual action can have a positive effect on our environment and society at large.
The residents of Madrid are starting to become aware that this waste can produce biogas that is turned into electricity and fertilizer, and that the better the separation in the home is, the more efficient the processes for recycling this waste are. And this also reduces the amount of waste going to landfill or for energy recycling, while also cutting emissions of greenhouse gases, as the biogas generated during the biomethanisation process is captured to produce energy, preventing it from being released into the atmosphere.
The message conveyed by the educators must also highlight our obligations as a member state of the European Union, whose targets for this waste this year are to reduce the waste we produce by 10% compared to 2010 and to recycle 50% of it. Now that almost all the city districts separate organic waste (except Centro, scheduled to join in September 2020), we are a lot closer to achieving this!
The crisis our city is experiencing due to COVID-19 has prevented the team of educators from continuing their outdoor work over recent months. They have not halted their activities, however. They have adapted them to adopt the use of different digital platforms and social networks to continue sending out the message of the "Getting organic waste right" campaign and encouraging all citizens to carry on recycling.
Follow us on social networks and stay informed! If you'd like to find out more about our educators and their activities or receive the information materials of the campaign, you can visit our Getting organic waste right website or follow our profile on Twitter.
And now, more than ever, our usual reminder to think global and act local, and responsibly… Get it right by separating out your organic waste, staying at home and going online!
When I recycle, I'm right.
And when I cooperate, too.