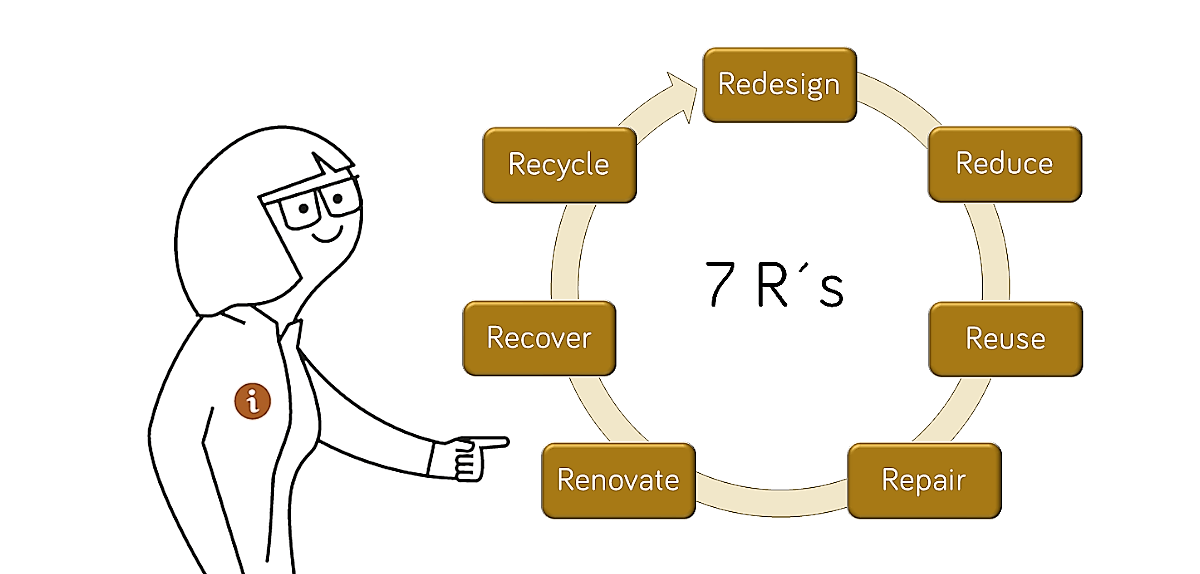 In addition to providing information on how to correctly separate organic waste for the new brown bins and answering your questions about other waste, the "Getting organic waste right" information and awareness campaign aims to raise the public's awareness on the importance of the "3Rs" and how our lifestyle and consumption affect the generation of waste and its subsequent treatment.
The rule of the 3Rs is based on three fundamental principles, namely: Reduce, Reuse and Recycle.
Reduce: decrease the number of products we buy or the waste we generate.
Reuse: re-using things, either for the same purpose or something different to their original purpose. This increases their useful life.
Recycle: turn the waste into raw materials for making new products.
How can we reduce the amount of waste we produce? We need to change our habits as consumers. This means the small things we do every day – like buying products in bulk (fruit, vegetables, legumes), making the most of the products we have already bought (electrical appliances, office supplies, cell phones, computers…), inventing recipes to use up food waste, avoiding disposable plastic bags and going shopping with our own bag or trolley… to succeed in reducing waste.
We must move away from this "throwaway" culture and foster reuse. There are an increasing number of second-hand stores or initiatives for exchanging objects we no longer use so as to give them a second life, such as ReMAD, an initiative of Madrid City Council to encourage reuse via an exchange system at 16 fixed "Puntos Limpios" across the city.
However, there are occasions when waste cannot be avoided. And that is when we have to do our part by separating it correctly at home to simplify recycling and transforming it into new raw materials so we can avoid extracting and consuming natural resources (more expensive and rare).
But, what about those products we can't reuse or recycle? Once they have been turned into waste, they are disposed of in landfill permanently or used for energy production whenever possible. If we fail to put the rule of the 3R´s into practice, there will be an enormous amount of waste sent for final treatment and this can create problems in the medium to long term, because the capacity of landfills to take in waste from processing and otherwise non-recyclable waste is limited.
Today we have a new challenge: to make a real transition from our current economic and consumer model, based on linearity (extracting raw materials, producing, consuming and throwing away), towards a new circular economic model.
This has led the EU to make the transition towards this new model a target for the year 2030, at which time, before a product is released onto the market, a series of sustainability criteria will be considered, both for its extraction and the use of raw materials and during the production process, distribution, reuse and recycling.
The transition from a linear to a circular economy and our growing knowledge of waste management mean that the 3R rule must be redefined, by increasing the number of actions we can take to achieve the objectives set out in the law and achieve more efficient waste management. In this way, we have gone from the 3Rs to the 7Rs: Reduce, Reuse, Repair, Renovate, Recover, Recycle and Redesign.
Each of us, as citizens of Madrid, form part of the solution to the waste problem. Starting to put the 3Rs into practice can be a good starting point, but we need to do more. And that's why we recommend everyone take responsibility, be aware and practice the 7Rs.
Remember that the best waste is that which is never produced.
When I cooperate, I'm getting it right!